It was some time I was trying to organize a shooting in a marble quarry. Not just for the unique surrounding, but also because marble is the best surface to skate on. I wanted to do something special in the best marble quarry of the world, the same where the artist Michelangelo chose the blocks for his sculptures.
I've been working with Red Bull for a while, so I knew it was the perfect partner for this shooting. While I was doing spot surveys and talking with marble workers and managements in Carrara, they commissioned some cool marble obstacle. When it was time to call the skaters, we decided to call italians best young guns, so we got Mauro Caruso, Marco Giordano, Jacopo Carozzi, Ivan Federico and Andrea Casasanta, who skated with Red Bull athlets Mack McKelton and Dany Leon.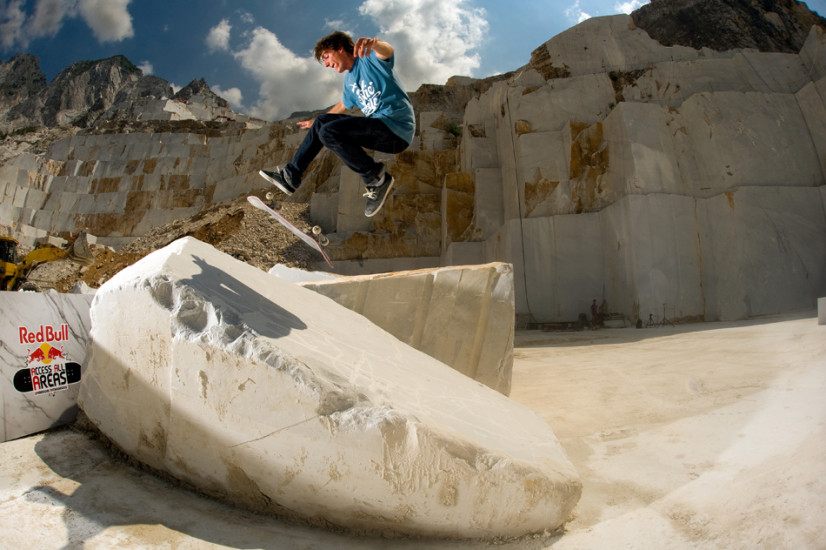 Sure it was the dirtiest shooting ever, and all my photo equipment turned white. But we got a lot of good coverage: photos were published on italian newspapers Gazzetta dello Sport and Repubblica, while the video was featured on national news TG5.
See more pictures on Red Bull Photofiles where one of these photo got to the highlight, take a look to the video down here, or grab a copy of action sports lifestyle magazine Baco… More about this issue later this month.